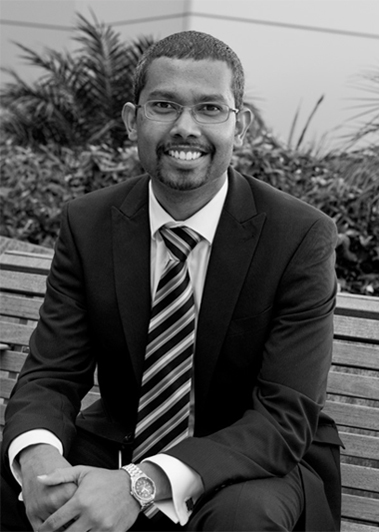 Dr Jai Sungaran
BSc(Med) MBBS FRACS(Orth) MASurg(Orth) FAOA




Dr Jai Sungaran
BSc(Med) MBBS FRACS(Orth) MASurg(Orth) FAOA
Hand and wrist surgeon Jai Sungaran in Caringbah serves the Sutherland Shire, South-Eastern Sydney, and surrounding communities with a commitment to restoring function and relieving pain through exceptional care. In formulating a treatment plan, he places the patient's best interests at the forefront, recommending the most conservative approach to care that he feels will yield the best possible outcome. At every stage, he communicates openly and honestly with patients, treating them with passion, dignity, courtesy, and respect.
As a dedicated orthopaedic surgeon, Dr. Sungaran prioritises nothing in his professional life above the well-being of his patients. As a patient of Southern Hand & Wrist, you can trust that he will invest his experience, knowledge, and expertise into producing the best possible results in your case, whatever injury or disorder of the hand or wrist you are facing.
For further information or to schedule your initial consultation with Dr. Sungaran, please contact Southern Hand & Wrist, serving the entire Sutherland Shire region, today.
Dr. Jai Sungaran: A Brief Biography
Dr. Jai Sungaran is an Australian trained orthopaedic surgeon, backed by the Australian Orthopaedic Association, the only accredited body for orthopaedic surgeons in Australia. He is also a fellow of the Royal Australasian College of Surgeons.
Dr. Sungaran was born in Singapore and emigrated to Australia in 1987. He completed primary schooling at Christian Brothers' Concord, moving on to high school at Sydney Grammar School. He subsequently undertook a combined Medical Science and Medicine degree at the University of New South Wales, graduating in 2000.
His junior doctor years were spent at Concord Hospital, where he was introduced to Orthopaedics under the guidance of Professor Warwick Bruce, Dr. Ed Marel, and Dr. Len Walter. He successfully gained entry into the Surgical Training scheme in 2002 and began his Orthopaedic training at St. Vincent's Hospital. On completion of his training, he proceeded to subspecialise in hand and wrist surgery.
Dr. Sungaran received the prestigious Johnson & Johnson Medical research scholarship in 2010. This allowed him to complete a Masters in Advanced Surgery of the Hand and Wrist at the Australian School of Advanced Medicine under the guidance of Professor Graham Gumley. He has also travelled overseas to gain further training in microsurgery (microneural and microvascular) as well as brachial plexus surgery at E-Da Hospital in Taiwan, under Professor Tu Yun-Kuan.
Currently, Dr. Sungaran is a Visiting Medical Officer (VMO) at Concord Hospital and a locum VMO at the Sydney Hospital Hand Unit. Dr. Sungaran is the Director of Clinical Training for orthopaedic registrars at Concord Hospital. He is also involved in registrar selection and is a clinical examiner with the Royal Australasian College of Surgeons.
In his spare time, you might find him with his young family either at the Royal National Park or on the sand at Wanda.
Current Research Projects
Site Supervisor for Concord Hospital. Part of the CROSSFIRE research group. (Combined Randomised and Observational Study for Fractures in the distal Radius in the Elderly)
Does a Hand Strength exercise program improve grip strength in the elderly with a distal radius fracture? A randomised controlled trial
ASA grade as a predictor of pre-surgery anaesthesia time. Presented at the AOA Annual Scientific Meeting in Cairns 2016. Paper in submission
Patient outcome measures as a measure of satisfaction post thumb basal joint arthroplasty
Your Initial Consultation with Dr. Sungaran
When you book your appointment to see Dr. Sungaran, the reception staff will inform you of the initial consultation fee. They will also ask you to bring your relevant referral paperwork as well as all of your imaging. The actual films, rather than just the reports, are very important to help explain your condition and to aid Dr. Sungaran in planning any surgery that may be required.
At your appointment, you will be asked to fill in a patient questionnaire as well as a research questionnaire. This will greatly help Dr. Sungaran with specific research projects he is involved with. You will have the opportunity to decline any involvement in this research at any point.
Dr. Sungaran believes that patients should have access to hand and wrist surgery of a high standard that is reasonably priced, but he also refuses to compromise the quality of the care he provides. If you should require surgery, he will be entirely forward with you about the cost of your treatment. You will be provided with a written quote outlining the item numbers for your procedure as well as the estimated cost, including any out-of-pocket expenses, or the gap payment. This gap depends on several factors, largely related to health fund you are in and how much of your procedure will be covered.
Schedule Your Consultation with Dr. Sungaran Today
To schedule your initial consultation with hand and wrist surgeon Jai Sungaran at his Sutherland Shire practice, with office locations in Caringbah and Sydney Olympic Park, please contact Southern Hand & Wrist today.
Let's Talk
Thanks for stopping by! We're here to help so please don't hesitate to reach out. Please include your phone number and email address! For a quicker response, we request that all communications about appointments are made by phone. We do not monitor our schedule when out of the office, so we may not get them in a timely manner. Thanks again!